Candidates for the Board and President of SYL 2022
Introducing the candidates for the Board and the President of the National Union of University Students in Finland for the year 2022! The President and the Board of SYL will be elected in the SYL's General Assembly on 19-20 Nov. 2021.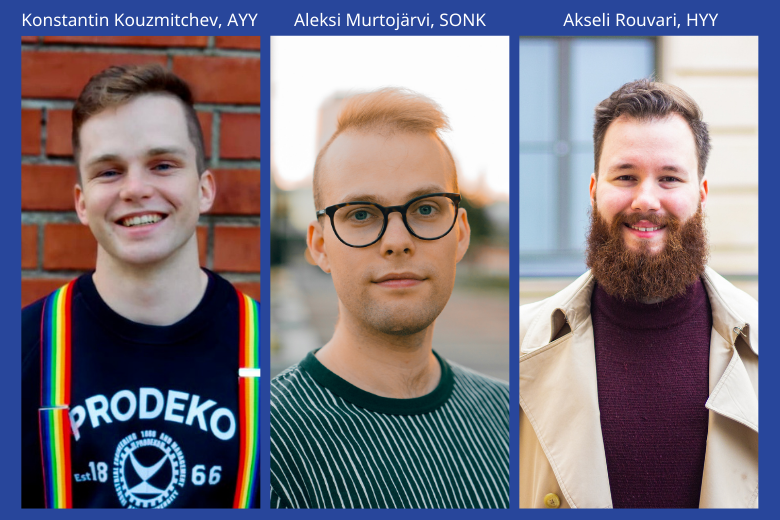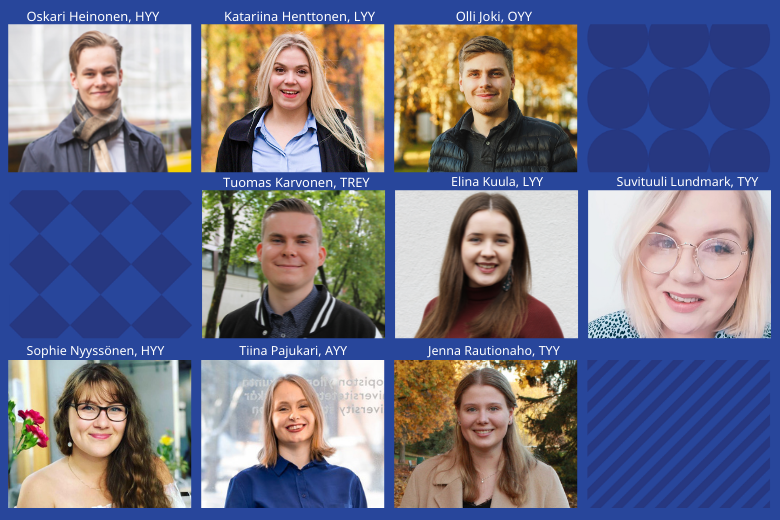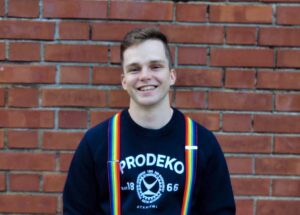 Introduction: Why would you be the best choice for the president?
Hi! My name is Konsta Kouzmitchev, and I am a 24-year-old student from Joensuu with an immigrant background. I am currently studying production economics for 4 years at Aalto University, and in my free time I enjoy a variety of racket sports, reading and spending time with friends.
As chair of SYL, I would highlight the issues of coping and the wellbeing of students.
I would work to make sure that the communal spirit of student life is restored. I would also strive to ensure that our student movement is truly inclusive, with everyone's voices being heard. This is especially the case for those who are in a weaker position, whose voices are not so easily heard. As someone with an immigrant background, I have had good opportunities and I want to make life easier for everyone struggling with their own path. I believe that my wide-ranging experience and my diverse background make me the force for change that a hundred-year-old student movement needs. The appreciation for students in our society needs to be restored.
How would you develop the activities of the National Union of University Students in Finland?
A more accessible SYL. The student movement should offer everyone the opportunity to participate, regardless of gender, age, origin, language skills, religion or other belief, opinion, health, disability, or any other personal reason. By cherishing education and culture, following the principles of trilingual communication and providing a safer space for everyone, we will go a long way.
A unified SYL. As a people-oriented leader, I firmly believe that genuinely interacting with people is the main building block of trust. In this year of recovery from the coronavirus pandemic, one priority has been to intensify efforts to unify the student movement. It is only through close collaboration that our movement can be strong.
A bold SYL. We need to take new initiatives and offer our own solutions, ones that are in line with what students need.SYL must not regress into merely being a defender of benefits than have already been gained. The members of SYL's board must have time for envisioning changes and realising them. One of the initiatives that has been taken this year was the development of the Students at Risk scholarship system.
What is your most important trait as an influencer, and in what areas do you have room for further improvement?
As an advocate, I am relentless, active and bold. I have the guts to stand up to politicians, civil servants and other stakeholders. An example of this from the past year is my advocacy on behalf of international students, which paid off in the form of numerous concessions regarding residence permits and with the inclusion of students included in the national D visa system.
In doing this work, I wasn't afraid to grab the phone at any time and arrange meetings with representatives of members of Parliament and labour market organisations. I have a vision of how to bring about a better future for students, and I have the fire to make it happen. As an influencer, I have the potential to develop into a real "rabble-rouser" in a positive sense. I am a sociable introvert by nature. I can take control of smaller social situations very well, and am able to make an effective impact by being empathetic and people-oriented. However, I will need some practice in larger-scale public speaking in the post-Zoom era.
What do you think is the most important success of the student movement in the last 10 years, and why?
The biggest success of the student movement in the 2010s was the introduction of the concept of generational politics. Intergenerational justice between different age groups must be achieved in the social system. SYL and the student movement have rightly highlighted various important issues in public debate, including the shortcomings of the pension system, the transformation in the labour market, the continued incurring of debt by the government, the ability of young people to cope, and combatting climate change and other environmental crises.
In the future, there needs to be more emphasis on political discussions related to generational issues. The student movement must demand ambitious action on climate change, investment in mental health services for young people, and sustainable economic policy decisions by policy-makers. This will ensure that we can maintain a prosperous society for future generations also. It is the responsibility of the student movement to ensure that students' voices are heard by the powers that be. The decisions made now will affect us all even after our student days are over.
What are the next important steps in SYL's lobbying activities?
The most important steps in SYL's lobbying in 2022 are related to the regional elections: supporting student unions, influencing party parliamentary election programmes, and planning the parliamentary election campaign. Advocacy efforts also need to be focused on the government discussions on spending limits and government budget sessions, where the government has the last chance to deliver on its promise of restoring the honour of education.
Permanent investments must be made over the coming years in the wellbeing of students. In addition to individual measures, structural problems related to student livelihoods and pressure to complete a narrowly-focussed degree in an unreasonably short time need to be addressed. In addition, sufficient funding must be made available for higher education so that the new tasks of higher education institutions, such as promoting accessibility and digitalisation, and increasing the number of starting places without compromising on quality. In the longer term, we need to speak out more and more about having fair intergenerational policies.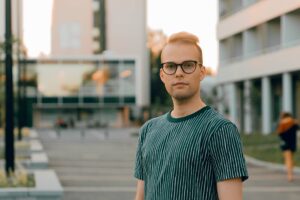 Introduction: Why would you be the best choice for the president?
My name is Aleksi Murtojärvi, I'm a 26-year-old student of communications and an active participant in organisation affairs.  I am sociable and goal-oriented, with a wide range of capabilities, and am well able to handle things, even in difficult situations.
In addition to my studies and student union activities, I work as a communications entrepreneur, and in my free time I enjoy music and nature. I want to be the chair of SYL because I think that the interaction between the union and its members needs to be improved, and there needs to be more opportunities for students to participate in the activities of the association.
My wide-ranging organisational career and work experience give me the comprehensive background that is needed to chair SYL. In particular, the leadership experience I have gained since a young age, first in hobbies and then in various work, make me the best choice for chair of the union. In addition, in my time as a student union member and in other organisations I have learned a lot about lobbying, both through organisations and directly with decision-makers.
How would you develop the activities of the National Union of University Students in Finland?
To student unions, SYL comes across as a distant body that puts itself above them. Even though SYL operates at national level, it doesn't have to assume any superiority in the student movement. SYL must be a unifying force – a hub where all the student unions come together.
I want SYL's activities to be clearly visible to university students, to be brought to the fore more than at present. Alongside individual sector meetings, there would be two or three opportunities, open to all members of student unions, to discuss current advocacy matters, especially in the social and higher education policy sectors. In this way, SYL could put across its national perspective on issues such as the accessibility of student organisations for individual fields of study, and thus inspire more and more students to participate in student union activities. In addition, in the sponsorship activities of the board I want to give the student unions more opportunities for meetings and collaboration.
What is your most important trait as an influencer, and in what areas do you have room for further improvement?
I'm an experienced and skillful speaker and presenter. I can put forward my position clearly and back it up effectively – just as a good communicator should be able to do. Advocacy communication overall is an area where I have plenty of expertise, and I believe that I have the necessary vision and capability for leadership of SYL, both for advocacy itself and for the management of the union.
I am well able to identify opportunities for influence and to draw on networks and spontaneous situations to advocate for students.
In particular, I would like to gain expertise in working with international student organisations, in particular ESU, as my own international experience is from others elsewhere in the youth organisation field.
What do you think is the most important success of the student movement in the last 10 years, and why?
The long-term goal of bringing students of universities of applied sciences within the scope of the FSHS services was finally realised in 2020. Student health care, which extends on both sides of the dual model, is an important factor in promoting equality, and this is also important from a societal point of view. Although the student movement primarily works for the benefit of university students, it should not be forgotten that we are also part of a diverse society and can also have an impact beyond our own field.
On a more general level, in my opinion the increasing awareness within the student movement of the importance of sustainable development, equality and transparency are great achievements.
What are the next important steps in SYL's lobbying activities?
The pandemic has done considerable harm to students in terms of wellbeing. Securing adequate resources for student welfare, and for mental health services in particular, is one of SYL's most important short-term tasks. In addition, SYL must contribute to solving acute problems related to students' livelihoods, especially in connection student financial aid. It will not be easy to oppose efforts to make students' livelihoods increasingly dependent on student loans, or to safeguard social benefits for students, but these are SYL's responsibility.
In addition, the union needs to have an impact at the national level for defending students' rights, especially now that remote and online learning may well start to seem like an attractive way for universities to cut costs. Student unions are already doing important work to promote high-quality teaching, but SYL, as an umbrella association of student unions, needs to support their work at the national level.
And in the slightly longer term, SYL will be even more important in the near future in improving the position of student unions nationwide.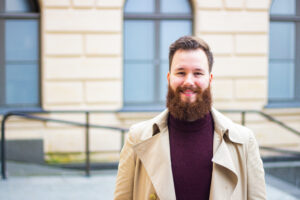 Introduction: Why would you be the best choice for the president?
Hi! My name's Akseli Rouvari, I'm a student, optimist and idealist. I am a 25-year-old political science and communications student from Helsinki, and I want to contribute my tenacity, creativity, know-how and experience to the leadership of the student movement. I believe in constructive collaboration and dialogue, without however compromising on the most important goals.
I believe I have the right qualities to succeed as chair of SYL. Knowledge of the most important areas of advocacy provides not only good conditions for advancing the movement, as well as informing the vision for the direction to take. Examples of my qualifications in this area are this year's experience at SYL and last year at HYY. In addition, I care about this movement. I have dedicated my efforts to it full-time now for two years. It would be an honour to continue working together for every university student as chairman of SYL.
How would you develop the activities of the National Union of University Students in Finland?
For SYL to continue to be a determined, progressive and courageous force for social change, it is essential to have a vision and to develop its activities continuously. Continued improvements in the effectiveness of advocacy and communication must be continued, so that the student movement's jointly developed visions and policy paper positions are reflected in the political debate. Advocacy needs to be more determined: we need to learn more from the lobbying and media work of parties and other relevant decision-makers. More work needs to be done to develop our vision regarding various issues, such as social security reform, reform of the university funding model, the future of working life, and lifelong learning.
The framework for SYL's operations comes from the General Assembly and from the field in the form of guiding documents. The union's activities are always developed together, which requires a listening and dialogical approach to collaboration with the entire movement – including outside of the General Assembly.
So join me in making the student movement more effective!
What is your most important trait as an influencer, and in what areas do you have room for further improvement?
As an influencer, I'm relentless and always keep myself well informed on the issues. Good social and collaborative skills and the creativity needed to find points of agreement between different parties instead of confrontation are my main strengths. I enjoy working with different people, which is important for lobbyists and leaders alike.
At the same time, I have a keen political eye for solving difficult problems and achieving advocacy goals. And once a goal has been set, I see it all the way through to the finish line.
It is important to constantly reflect on one's own areas for improvement and proactively ask for feedback from others as well. I'm never short of ideas, but I find that there is not always enough time or resources to realise them. For that reason, it's important to develop further in both prioritising my coping skills and recognising my limitations – including in cases where the work is close to my heart.
What do you think is the most important success of the student movement in the last 10 years, and why?
The last 10 years have been sad for students, universities and the Finnish welfare state. In the state's efforts to deal with its economic woes, the result has been that education and students have been subjected to an unforgivable amount of cuts. At the same time, mental health problems were becoming increasingly common long before the coronavirus crisis caused a further upsurge.
Amidst all this, the greatest success of the student movement has been its unyielding commitment to defending education and keeping it free. We were forced to give up when it comes to tuition fees for students from outside the EU and EEA, but without the long-term advocacy efforts of SYL it may be that free higher education is on an even more precarious footing. So I'm certain that without a strong student movement, even more would have been cut from education, students and the future, and even less invested in mental health services.
A strong student movement can guarantee a fair generation policy, and the interests of the Finnish welfare state for the future.
What are the next important steps in SYL's lobbying activities?
The three priorities for SYL's advocacy are:
Influencing the parliamentary election programmes. SYL must lobby for the goals and positions that are set together by the student movement to be taken into account in the election programmes of the various political parties, and must be put at the heart of public debate. SYL's own election themes and campaign must be developed purposefully.
The wellbeing and mental health crisis. Society needs to find ways to solve the student mental health crisis. This is above all else a human tragedy, but also a major financial concern. Let's say no to a struggling society!
The whole last full administrative year. The year will put pressure on the board to make reforms and solve tough problems. This is a golden opportunity for SYL to tackle key themes: student livelihoods and preparations for social security reform, basic funding for universities, adequate resourcing of university starting places, reform of the university funding model, increasing the number of international students, and combating the climate crisis.