I wake up in a hotel room and open the blackout curtains. An orange glow floods the room, and a view like I've never seen before opens before me. The hotel's fenced off backyard has what looks like a garden plot growing on it and on the other side there is a soldier standing on a dirt road. He is draped in a green robe and has an old assault rifle hanging on his shoulder.
I'm in Jimma, Ethiopia, which has a population of about 240 000 people. Although the city's population exceeds Tampere's, many of its roads are unpaved and lined with one-story shacks made of corrugated iron. These spaces, not larger than five square meters, function as bars, pool halls, and shops. On the roads freight is moved with cars, but also with donkeys and by balancing it on the heads of people carrying packages big and small. Every now and then our minibus comes close to hitting a careless goat lost in traffic.
I'm in Ethiopia on a week-long project monitoring trip with SYL's development policy advisor Sini. SYL and the Ministry of Foreign Affairs have supported the EMPOWER project for four years, which supports students with disabilities in three public universities in Ethiopia. One of these universities is in Jimma, where we have come to meet the university's leadership, staff from the disability support center founded with support from the project, students, and to take part in a celebration of the International Day for Persons with Disabilities, IDPD.
Arriving at the university, my attention is drawn to the security measures. Normally we would need to declare the electronics we have with us, so that guards could check that we haven't picked up anything extra when we're leaving. We are allowed to skip the check because our contact person Jaffer manages to talk the guard into letting us pass. The campus is a gated compound, with teaching spaces, dorms and even a bank branch inside the fenced area. There are security guards and police standing here and there.
The visit to the disability service center goes well. University staff are grateful for the changes made possible by the project, although many challenges remain. We are told about successes in changing the attitudes of teaching staff and security personnel, so that students with disabilities can access teaching and the campus in the first place. In addition to this, various aids have been acquired for the university and accessibility repairs have been made – for example ramps for students that use wheelchairs. There is still much to be done to change attitudes and to make the whole campus accessible.
"Often, when students with disabilities ask for help, others think about helping as voluntary charity. It isn't thought of as a right that belongs to persons with disabilities", says blind law student Firaol Teshome.
This fault has been addressed with trainings about the rights of persons with disabilities.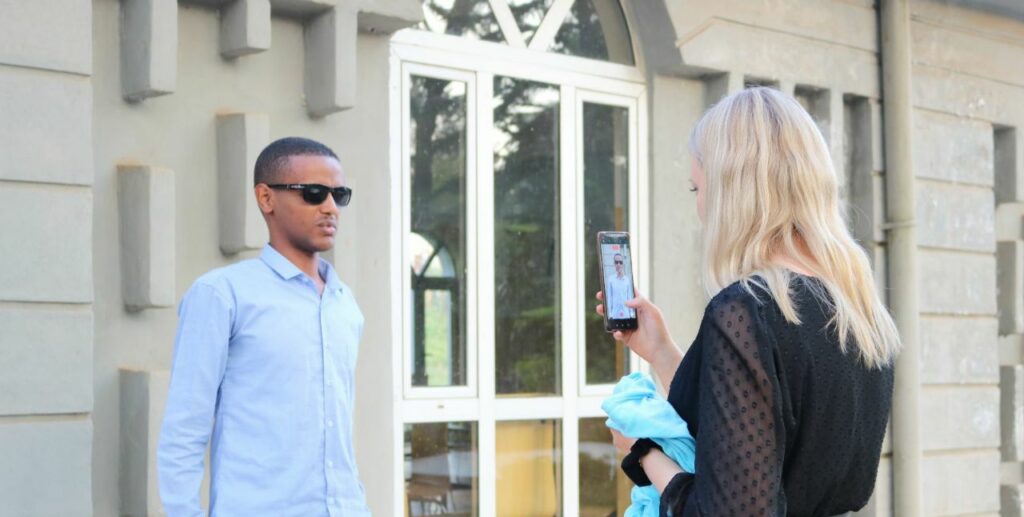 We leave the service center in a hurry to take part in the IDPD celebration. We jump in the university vice principal's Corolla and drive to the other side of the campus to an event venue next to an outdoor lounge for students. Coffee beans are being roasted on the yard on a traditional small coal grill. The smell of the burning coals becomes familiar to us during the visit. There are students with disabilities, representatives of disability organizations, and alumni speaking at the event. They talk about the challenges they've faced, like facing resistance from their families to attend school at all. It was very important for us to meet students with disabilities and hear from themselves about how disability services have developed at the university.
In addition to the visit in Jimma, we also spent time in the capital Addis Abeba. Sini also visited Hawasa and Dilla, but I couldn't come along as I was recovering from a food poisoning. Sini received similar feedback in Dilla as in Jimma: valuable progress has been made, but the work is not finished. The good news is that universities have committed to supporting students with disabilities in many ways after the project as well. Different acquisitions have been made to assist students, for example. A braille embosser bought to Dilla University means that students don't have to travel for hours to the capital if they want to print study materials in braille.
Even though the project is over in these universities as 2022 comes to an end, the work for the rights of students with disabilities will not stop.
SYL's development cooperation continues: in 2023-2026 the work for the rights of students with disabilities continues with two projects in Ethiopia and Zambia.
Iikka Sorvali
Chair, SYL's Development Cooperation Advisory Board