13.1.2017
Press release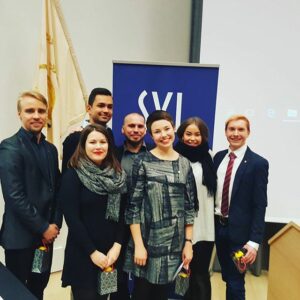 The 2017 Board of the National Union of University Students in Finland (SYL) has held its constitutive meeting and divided areas of responsibilities among the board members.
The board also decided on the respective sponsored student unions (Fi. "kummi").  Each board member is appointed sponsored member unions, for whom they serve as a sort of godparent. This makes it easier for officers of the student unions to contact their sponsor on the SYL board with questions and comments.
Areas of responsibility and sponsored student unions:
Riina Lumme: President, tel. +358 44 906 5007
Tarik Ahsanullah: Vice President, communications, associations (HYY, VYY)
Veera Alahuhta: international affairs, development cooperation (OYY, LYY)
Maria Loima: education policy (studies), Dare to learn event, working life (ISYY, ArtSU, Snellman University,)
Jyri Lähdemaa: education policy (structural development, quality) (TYY, LTKY)
Jimmy Nylund: social policy (student health care, wellbeing), equality and language affairs (AYY, ÅAS, SHS)
Jani Sillanpää: social policy (student finances, housing), environment, municipal elections (Tamy, TTYY, JYY)
Email addresses in the form firstname.surname@syl.fi. Phone numbers will be confirmed shortly.
Additional information: President Riina Lumme, +358 44 906 5007