SYL and the Ethiopian Center for Disability and Development (ECDD) are cooperating with the Threshold Association (Kynnys ry) to carry out a development cooperation project in Ethiopia with the aim to ensure equal opportunities for students with disabilities to study at Ethiopian universities. Many people are asking why we should support university students when there are so many people who are poor or facing discrimination.

From a Finnish perspective it is not easy to understand what a challenging situation many disabled people in Ethiopia are facing. In Finland, most of the higher education institutions have accessible premises, and people with disabilities can get many of the aids and services they need from the health care services or the municipality. Even though disabled people are still in a vulnerable position in Finland e.g. because of the discrimination they face, the situation for disabled people in Ethiopia is still much, much worse, for example because of the lack of accessibility.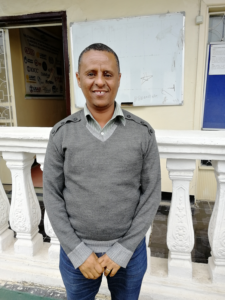 Many Ethiopians – including many parents of disabled children – think that people with disabilities will never be able to work and that they should spend the rest of their lives living off charity. That is not true, however, as blindness for example has no impact on a person's intelligence, even if it does impact their ability to learn by reading normal books. Yohannes Teklay, who coordinates the project in Ethiopia, explains that when a disabled student gets into university, it is also a pathway for them into making a living and gives them an opportunity to improve their future.
Teklay says that it is also important that other students understand disability better. This helps disabled students become part of society so that they are not left out of all activities. Inclusion and an atmosphere of acceptance also improve these students' self-esteem.
Salla Mäkelä
Development Policy Adviser